Oakley & Deane Parish Council
Footpaths and Walks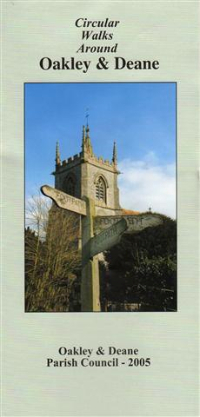 Oakley and Deane is situated in some of the most beautiful countryside in Hampshire and walking the footpaths and bridle paths is a perfect way to see the area at its best.
For those who enjoy walking there is a good network of well-maintained rights of way within the parish and beyond. A fine map can be seen by the village pond, which was produced by the Parish Council with the help of local expertise, and the leaflet available to download below describes six local walks.
There is a Multi User Route from Oakley to Kempshott which is very popular with walkers and cyclists among others, and is supported by Hampshire County Council and Jubiloaks.
A Rights of Way map of the area is available to view by following the link below. The Walking in Hampshire website is also worth a visit at www.walkinginhants.co.uk, where you can download details of walks and find lots more interesting information.
The Basingstoke Cycle Network provides for good cycling in the area. See the map of all existing and proposed cycle routes across the town, including where the best places are to park your bike on the link below.